Brainerd Shelter Volunteer Opportunities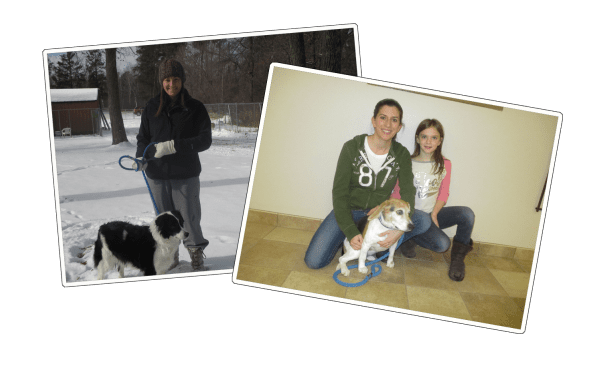 Kelly (top left) is a regular volunteer who comes weekly to walk our dogs. She is always on time, helpful and very dedicated. Kelly is also always very friendly, she will let staff know if a dog needs to be looked at or stop to clean up a mess.
Meet Emily (top right) and her daughter. Emily fostered a beagle that came in with a deep cut on her paw. She needed to be coned to keep her from licking it which prevents healing. Emily took her home and in no time she was healed right up. A detailed description written by Emily and she was adopted very quickly!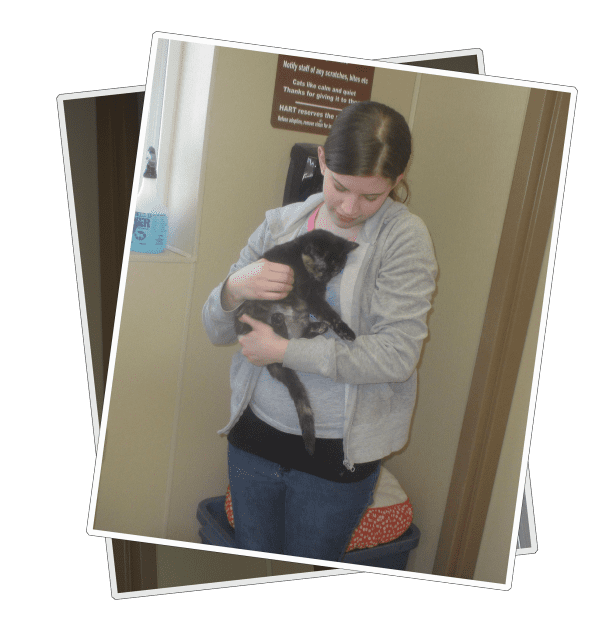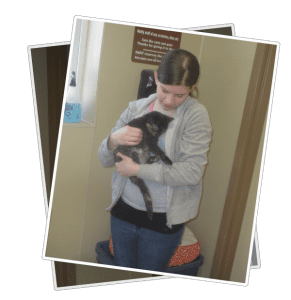 Diane (right) comes in and spruces up our cat rooms so they stay clean and presentable.
Volunteer orientations will be held on an as-needed basis, when the shelter is in need of more volunteers. Typically they are held every couple months, and the orientation dates will be listed at the bottom of this page. There are several volunteer opportunities at HART.
Due to the large number of volunteers HART has at this time there will not be a volunteer training until further notice
Current Volunteer Jobs:
Special Events Helpers
Animal Transporters
Education Helpers
Foster Care Parents
Dog Walkers
Cat Care Helpers
Requirements for Volunteers:
Must be 16 years old or older to volunteer alone
Dog walkers and cat care helpers need to be available for at least one shift per week (shifts are about 1 hour)
All volunteers need to be active, volunteering a minimum of 4 times a year
Animal Transporters need to be 25+ years old in order to be covered by our vehicle insurance
Need hours for school, community service, or for a special group?
These types of volunteers are handled on a case by case basis. Such volunteers will help with various kennel tasks around the shelter or with special projects. Please contact the Assistant Shelter Manager (Camille Haglin) or Donna Wambeke.
How to start volunteering:
Attend the next volunteer orientation available. All volunteer jobs will be explained in detail at the orientations to help you decide where you will fit in best.
Orientations will last 1-2 hours, depending on group size
Volunteer applications will be available at the orientations to be filled out and turned in afterward. They are not available at the shelter during regular hours.
FOSTER CARE ORIENTATION:
HART is always in need of foster people, and it is a great, rewarding experience that truly saves lives.
Youth Volunteerism at HART
As spring approaches, we are receiving requests for groups of students to volunteer at HART. This is an ongoing problem for HART because:
Our insurance will not cover children under 16
HART is a small shelter that does not have the space for multiple hands on volunteers
HART has stringent guidelines for cleaning the facility and for care of the animals. Only trained employees are allowed to do these jobs.
Therefore there is really nothing left for young volunteers to do. HART appreciates the willingness of young people to help HART, but we have been stymied on how to accept their offer. HART also realizes that teens need to meet school requirements regarding giving back to the community. The HART team has been struggling with finding an alternative to assist these students.
As a solution to the problem HART will offer the following:
HART will provide a one hour class, to be scheduled during shelter hours, that will be educational in nature. Students will receive information on HART---its philosophy, policies, procedures and goals as well as information on current critical issues in the pet world. Participants will also have an opportunity to meet the HART animals and ask serious questions only the experts should answer. For their participation in this class, the students will receive a certificate providing them with one hour of volunteerism.
You might be wondering how attending a class will help the community. By learning about the treatment, care, abuse and issues surrounding the animal world, hopefully these young people will become better animal owners and cause fewer animal concerns in the community.
For further information on this alternative or to schedule a class for your group, contact HART at 218-829-4141 or Education Director Jan Germann at 218-828-3449.