Educational Opportunites at H.A.R.T.
ATTENTION GROUP LEADERS!
Do you have a scout, church, school or other community group that would like to take a field trip to our newly renovated shelter? HART invites you to schedule an after school or Saturday visit.
Included in the tour of HART:
A visit with our animals
A lesson on animal responsibility or another topic of your choice
A craft and snack
This one and a half hour event is a service HART provides for the community, but donations are always welcome
To schedule the tour contact Jan at 218-828-3449 at least two weeks in advance of your desired date.
You will be emailed a confirmation form that will ask for specific information about your group and allow you to make special requests regarding topics of discussion, etc. The form will also contain specific guidelines on student behavior at the shelter. This form will need to be returned to at least one week before the visit.
OTHER EDUCATIONAL OPPORTUNITIES HART OFFERS:
Would you like one of our professional teachers to visit your class or group? We are happy to make "house calls". We would love to shape a lesson to fit your specific course plan. A four legged friend can always join us.
Don't forget, HART hosts birthday parties. We supply the decorations, fun bags, games/prizes, snacks, lesson and animal visit. You just supply the kids!
Finally, our education program is "all age" friendly. We are eager to visit adult groups and talk about HART's work!
If you would like to schedule a visit or party or simply have questions about any of our opportunities, call 218-828-3449 or leave a message for Jan at HART (218-829-4141).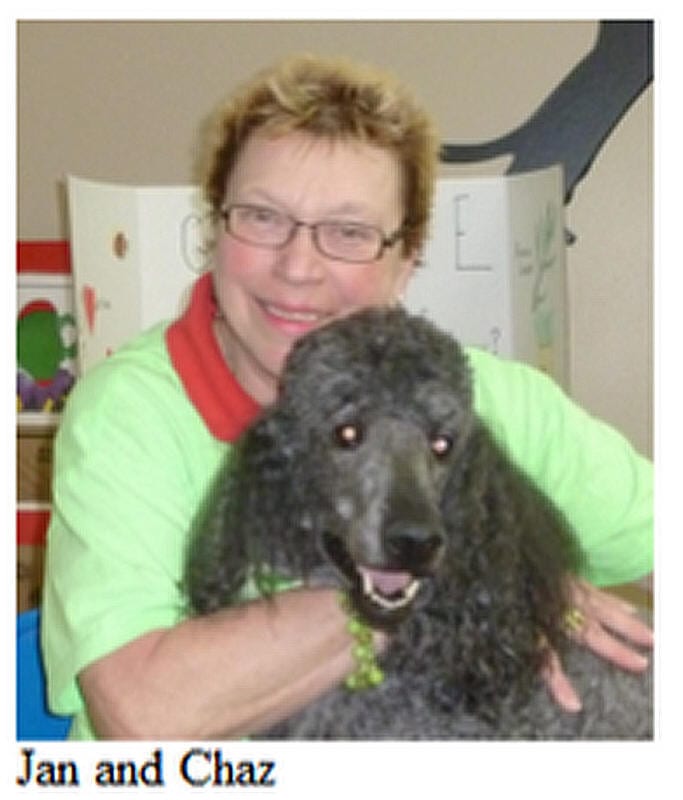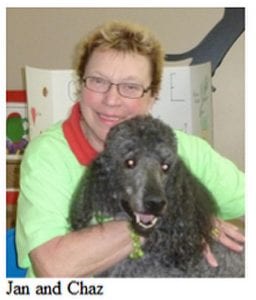 Pad, pad, pad…oooh, open classroom door…stick head in…
"Oh, Look, what a cute dog!"
"No, no, Chaz, that's not the right room," says Jan.
Oh, shucks, bet I could have gotten some nice pets and hugs from those cute teenage girls!
Pad, pad, pad…another classroom!
"Okay, Chaz, this is it. In we go."
Jan and I are the education spokesperson/dog for HART. Well, actually, only Jan speaks, but I am still the star of the show. While she talks about HART and a variety of animal issues, I mosey up and down the aisles resting my head on a lap here, sticking my nose into an arm there. These teens in this South Campus small animal class LOVE ME. But, who wouldn't.
I am, in all modesty, quite a handsome, blue, 70 pound, standard poodle. I am five years old and became HART's canine ambassador some time ago. Jan and I visit schools, church groups, Headstart classes and care centers as well as attend a variety of HART and community events.
It's amazing how I'm able to help young children get over their fear of dogs, especially big ones, and win over the hearts of the grumpiest wheelchair bound senior citizens. Sometimes all I need to do is sneak up behind their chairs and give them a little nuzzle. That helps them remember their favorite dogs from years past.
I heard petting a dog or cat can lower a person's blood pressure. I know Jan feels better when I lay my head on her lap and, believe it or not, sometimes crawl up on it. Unfortunately one time I almost tipped her and the chair over. But, hey, it was only once!
Jan and I love to get out into the community and visit. We can travel from Pequot Lakes to Aitkin, Crosby to Garrison, or just about anywhere else in the southern Cass, Crow Wing and Aitkin counties. Just give Jan a call at 218-828-3449 to schedule our visit.
Remember, hugs and rubs are much appreciated!!